The latest news from the
Suzuki Motor
said that Suzuki Motor Corporation has completed a prototype electric scooter from their latest product, namely
Suzuki
e-Let's
. Currently,
e-Let's
still in the process of testing in Japan. The
e-Let's
is based on a petrol-engine scooter called the Let's4 basket. Some sources say that
e-Let's
has a high-performance in-wheel motors with regenerative braking capability; a lithium-ion battery, and a charging system within a compact, lightweight chassis.
Suzuki e-Let's
Electric Scooter weighs almost the same as the
petrol-engine
models. A New Suzuki Motor Product offers the smooth acceleration, nimble performance, low noise, low vibration, and zero-emission environmental performance characterize that
electric scooters
. The battery is charged from a 100V household outlet. A single charge takes about four hours and gives a range of about 30km (assuming the e-Let's is ridden at 30km / h on level roads).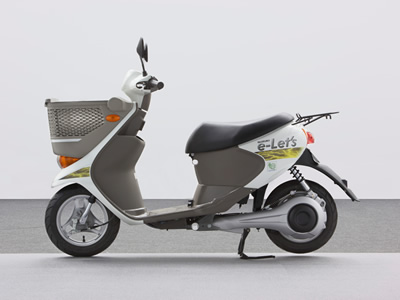 Suzuki e-Let's Electric Scooter : Preview
Well, here is information that can be obtained about the
Suzuki e-Let's specifications
.
Overall length x overall width x overall height : 1,665mm x 600mm x 983mm
Weight : 74kg (including battery)
Seating capacity : 1 person
Motor : AC synchronous
Rated output : Under 0.6kW
Riding range : 30km (at 30km/h on level roads)
Charging time : Approx. 4 hours at 100V
Battery : Lithium-ion